The Bridge on the River Choir is a community choir
which meets on Wednesday evenings from 7 - 9 pm
at the hall at Newtown Primary School.
The choir has no audition requirements and is open to everyone.
You don't have to be able to ready music.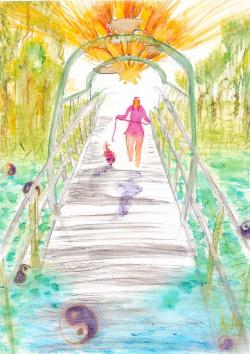 Musical Director - Gary Smith
Gary graduated from the Sydney Conservatorium of Music, studying with David Russell, Richard
Gill, Isador Goodman, Bob Bertles and Roger Frampton. He has performed with many choirs including The Conservatorium Singers, The St Mary's Cathedral Choir and The Singers of St Laurence. With 35 years conducting experience Gary has directed all types of ensembles and currently works with 5 Sydney community choirs including the ABC Choir and The Cleftomaniacs. He has worked locally and internationally with many choral groups and small a cappella ensembles performing in Sth East Asia and at The Edinburgh Festival.
Fees for choir members
Membership in The Bridge on the River Choir is renewed at the start of each term by payment of the term fee which is currently $190. Terms are approximately 10 weeks in length, although occasionally they can be 9 weeks or 11 weeks depending on the school terms and the choir directors requirements. Fees are payable within 7 days of receipt of an invoice which is sent at the start of each term. Fees for choir membership are not payable on a weekly basis. Occasionally members request blocks of time off due to personal, work or family commitments. In these circumstances discounts are offered. However the pro rata rate per week is slightly higher. The fee schedule for discount rates can be downloaded
here
.